Visit Facebook
or the NEWS page periodically for updates on paintings in progress.
A NEW SURREAL PAINTING, A WINTER SCENE IN PARIS, HAS STARTED. THE EXPECTED COMPLETION DATE WILL BE IN 2020.
MORE UPDATES TO FOLLOW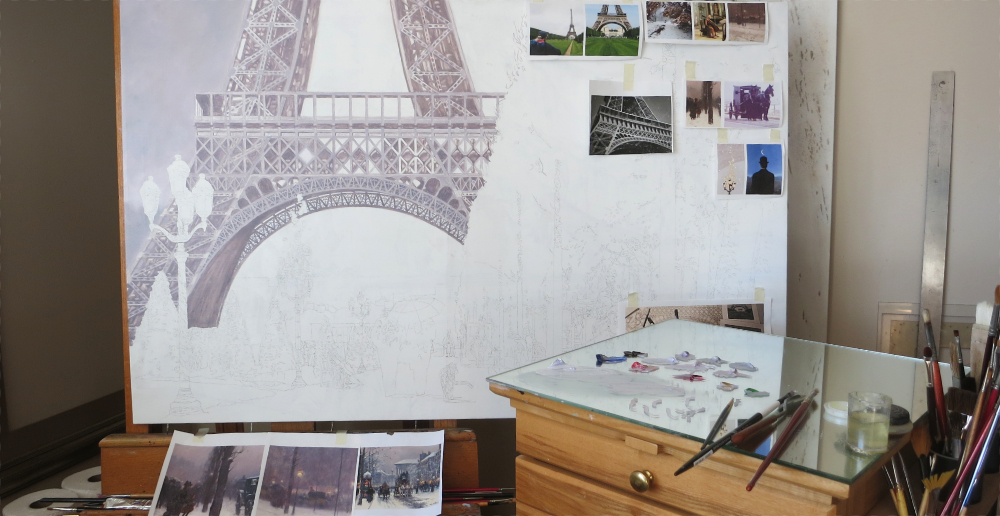 SEPIA TONED, ROUGH UNDER-PAINTING FOR SURREAL BEACH SCENE.
ESTIMATED COMPLETION DATE IS 2019.
New Additions to the Reed Collection, Mexico
'And You Thought You Were Normal'
A Documentary Film About Nash The Slash
IN PRODUCTION
And You Thought You Were Normal: A Documentary Film About Nash The Slash tells a universal story of an artistic struggle. This film illustrates an artist who pursued his vision without compromise gaining a cult following through his unwavering dedication to his Gothic obsessions, punk aesthetic and musical eccentricities. Validated by contemporaries such as Gary Numan and Iggy Pop and opening shows for mega stars like The Who, The Tubes and Devo, we witness how Nash flirted with fame but ultimately decided to follow the path of an anti-star.
Through extensive interviews, archival footage and rare imagery, we are introduced to the characters closest to Nash with whom he collaborated, mentored, and inspired.
Having left this world making a hefty contribution to Canadian culture, this film shows how and why this outsider artist had such strong international appeal and why his work is still very relevant to a new generation of music lovers today. In production since 2016, And You Thought You Were Normal will be released in 2019.
www.andyouthoughtyouwerenormal.com
Facebook, Instagram & Twitter @youwerenormal
Nash the slash was inducted into
the Canadian Rock & Roll Hall of Fame posthumously in 2017
I AM HONOURED THAT MY PAINTING
'THE BLUE ANGELS'
has been acquired by
THE SMITHSONIAN AIR & SPACE MUSEUM
in Washington, DC.
'THE BLUE ANGELS' by Robert W. Vanderhorst - Oil on Canvas
In 1995, with the assistance of Admiral Skip Furlong, former Vice President of the United States Naval Aviation Museum Foundation and Capt. Bob Rasmussen, former Director of the National Museum of Naval Aviation at NAS Pensacola, Florida, Vanderhorst created a 3'x 6' oil painting celebrating the 50th. Anniversary of the Blue Angels.
The painting depicts all eight of the aircraft used by the Blues since their inception in 1946.
Cdr. Butch Voris originated the Blue Angels and flew the first F6F Hellcat for the team in 1946. He also named the new Navy flight demonstration team after a night club in New York City called "The Blue Angel".
After completion in 1995/96, the painting went on display in the Atrium of the United States National Museum of Naval Aviation at NAS Pensacola, Florida for 2 1/2 years.
The painting has been acquired by the Smithsonian Air & Space Museum in Washington DC.
Below are listed the first flight leaders for each aircraft used by the Blues.
F6F "Hellcat" - Cdr. Butch Voris, Team Leader 1946
F8F "Bearcat" - Lcdr. Dusty Rhodes, Team Leader 1947-50
F9F-5 "Panther" - Lcdr. Ray Hawkins, Team Leader 1952-53
F9F-8 "Cougar" - Cdr. Zeke Cormier, Team Leader 1954-56
F11 "Tiger" - Cdr. Ed Holley, Team Leader 1957-58
F4 "Phantom"- Cdr. Bill Wheat, Team Leader 1967-69
A4 "Skyhawk" - Cdr. Ken Wallace, Team Leader 1974
F18 "Hornet" - Capt. Gil Rud, Team Leader 1986-88
'IN THE ABSENCE OF LIGHT'
has been acquired by
THE CANADIAN WAR MUSEUM
in Ottawa, Canada
for their permanent art collection.
I was inspired to create this painting by a photograph.
The photo was a haunting image a young Afghan girl
standing before a burned out Russian tank taken by
my dear friend, Mike Frastacky two years before
he was killed by the Taliban for funding and
building a school for the children of the
village of Nahrin in Northern Afghanistan.
A young Afghan girl stands in a large room staring directly towards us. Her haunting gaze and sad expression give us an insight into the suffering she's endured.
The space in which she stands is reminiscent of a room in the British Museum which houses the Parthenon Marbles. The ceiling is open to the elements and the friezes along each wall no longer depict glorious battles from Greek history but now are symbolic of the violence of all wars. The stone is alive and bleeding, a hellish, permanent reminder of the destruction and suffering that comes with violent conflict.
A sculpture of a dismembered tank stands alone in the room, the barrel slightly lowered in defeat but still ominously pointing as a possible threat. Two generals guised as polo players enter the room from opposite directions. Their game is about to begin. Power is the motivation and the damage and misery caused as a consequence of their battle is irrelevant. Victory is the only goal that matters. Two peasants with brooms in hand stand ready to clean up the debris left behind.
As a commentary on the transitive nature of nations, a large Easter Island statue stands in the middle of the room, balancing precariously on a thin pinnacle. Low stanchions placed to protect the relief sculptures become confusing escape ladders running along each side wall. One such ladder appears overtly out of place over a baseboard and then disappears into an atmospheric floor. The top of a nearby bench becomes a skyscape retreating into the floor and offering another possible escape portal.
The young girl's expression is one of sadness. Her eyes are caught in shadow and at first glance, seem empty. Looking deeper into the darkness, the space comes alive. Stars appear, emblematic of her hope and desire for a new life. Her clothing is also a symbol of hope. The blouse is made of coloured glass, inspired by the magnificent stained glass windows of the Chartres Cathedral located just outside of Paris. The leaves in her brightly patterned jacket become 3 dimensional and begin to fly away like doves in a gentle breeze.
Michael Frastacky's wish for the children of the 10 villages that surround the district of Nahrin in Northern Afghanistan was for peace, hope and freedom through education. His effort in building this school embodies what it means to be a Canadian and highlights Canada's commitment to stability, peace and a positive future for Afghanistan.
His school remains as a light in the darkness for over 1000 children.